A guilty conscience needs to confess. A work of art is a confession.
---
Born in Italy to a West Asian mother and a North African father, Maya was raised in a multilingual household - one in which art represented yet another language. Dance was also a passion early on, her adolescent love of ballet and tap developing into a penchant for hip-hop and aerial acrobatics.
Visual arts went hand in hand with the performance arts. Originally a sculptor, she now focuses on painting and illustration. Her first series, 'Porn-By-Numbers,' is an adult take on a childhood favorite.
---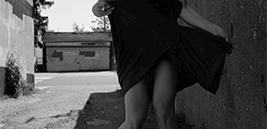 As a means of uniting both the visual and performance elements, Maya teamed up with talented photographers nationwide to create a collection of artistic collaborations.

Her chosen name, Maya Desnuda, pays homage both to her love of art (via its reference to Francisco de Goya's 'La Maja Desnuda') and to her mother (who gave her the nickname years ago).
Images from her collaboration with renowned fine art body painter Craig Tracy have been featured in numerous books and magazines, and continue to hang in The Craig Tracy Gallery in New Orleans. Maya has also been featured in publications such as Vogue Italia, GQ Italia, Paper, Maxim, and Seven Magazine, as well as the upcoming books Fucking New York by Nikola Tamindzic, Female by James Mountford, and Nude 2014.
Her likeness, as drawn by Egyptian artist Ganzeer for his anti-harassment campaign, stood twelve feet tall at the Brooklyn Museum from December 2015 through August 2016.
She resides in NYC.